Electric Scooter Accidents And Injuries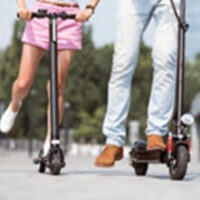 Electric scooters are gaining popularity as a means of transportation in large metropolitan areas, and Houston is no exception. While electric scooters, or e-scooters, may be a fun way to get around they can also cause serious accidents and injuries. If you or someone that you know has been injured in an electric scooter accident in the Houston area, the experienced and compassionate personal injury lawyers at Gilde Law Firm are here to help. Call or contact the office today to schedule a free evaluation of your injury claims.
Types of E-Scooter Accidents
There are three main types of accidents that happen with electric scooters. The first is when an e-scooter rider is injured while operating the scooter. Electric scooters are not always maintained properly by their companies, and these vehicles can travel at speeds that can cause serious injuries to the riders if they malfunction. Defects in the braking, acceleration, electrical system, handlebars, and baseboards can all cause crashes that can seriously injure the rider.
The second type of e-scooter accident happens when an electric scooter strikes a pedestrian. E-scooters are so new that not everyone knows where to ride them or how to properly operate a scooter before getting on the road. While scooters are meant to be on the road or in the bike lane, many people ride electric scooters on the sidewalk and other pedestrian walkways. Given the substantial speed of an e-scooter, when one collides with a person that has no protection against the impact of the crash the injuries sustained can be devastating.
The third type of accident happens when a motor vehicle strikes an electric scooter on the road. E-scooters are so small that many drivers in larger vehicles fail to check for them before changing lanes, making turns, or passing through intersections. Compared to a car, truck, or SUV a person on an electric scooter has virtually no protection in a crash even if they are wearing protective gear like a helmet. Catastrophic accidents have happened involving vehicles and e-scooters, and those injured deserved to be compensated after a crash.
Electric Scooter Injuries
Depending on the circumstances of the accident, injuries sustained in an electric scooter crash can range from the mild to the severe. Some of the most common injuries reported in Texas electric scooter accidents include the following:
Traumatic brain injuries,
Facial trauma,
Neck injuries,
Spinal cord injuries,
Back and spine injuries,
Broken bones,
Nerve damage,
Amputation injuries,
Internal bleeding,
Internal injuries,
Paralysis,
Coma, and
Death
If you or a loved one has been injured in an e-scooter accident, it is critical that you speak with a knowledgeable personal injury attorney as soon as possible about compensation for your case.
Call or Contact Us Today
Do you know someone who has been hurt in the Houston area in an electric scooter accident? If so, the experienced Houston bicycle & e-scooter accident lawyers at the Gilde Law Firm are here to help. Call the office or contact us today to schedule a free consultation.