Texas Man Riding Scooter Involved In Fatal Car Accident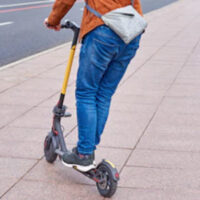 Scooters – including motor scooters, e-scooters, and small mopeds – are a great way to get conveniently around town. In fact, small motorized bikes and scooters are likely more attractive than ever before due to high gasoline prices and crowded city streets and parking lots. The prevalence of scooters in and around Houston means that Houston drivers should be aware that scooters are part of their regular surroundings and caution must be taken. While a convenient and fast way to get from point A to point B, scooters, like motorcycles and bicycles, leave the scooter rider totally exposed, as there is no protection to the body on a motorized scooter other than helmets and riding gear.
Unfortunately, a tragic and fatal accident occurred involving a scooter in the past week in Texas. The accident serves as a reminder of the lethal combination of drunk driving and scooter riding. According to a local news report, a 49-year-old man from Galveston was riding a motorized scooter on Sunday, August 14, when he was hit by a Nissan Altima sedan. The scooter rider was traveling westbound on Avenue U in Galveston, and the sedan was traveling southbound when the accident occurred at an intersection. The scooter rider came to the intersection and stopped at a stop sign, and when he proceeded through the intersection he was hit by the Nissan Altima sedan. The scooter rider was thrown from the scooter and ultimately landed on the windshield of another car that had stopped at the intersection. Unfortunately, the scooter rider succumbed to his injuries at the hospital. The driver of the sedan sustained non-threatening injuries, and was later determined to have been intoxicated. The sedan driver was then charged with intoxication manslaughter for the fatal accident.
Motorcycle Injuries Reach Thousands in Houston
Unfortunately, motorized two-wheel vehicle accidents in Houston aren't few and far between, and the tragic accident in Galveston illustrates that even when a scooter operator follows the rules of the road, accidents can and do happen. In fact, according to the Texas Department of Transportation, in Houston alone, in 2021, there were 1,633 motorcycle driver fatalities that occurred when the driver was wearing a helmet at the time of the accident. An additional 1,027 fatal motorcycle accidents occurred when the driver was not wearing a helmet. Including cases where it is unknown whether the operator of the motorcycle was wearing a helmet, the total motorcycle driver fatalities in Houston climbed to 2,816 in 2021. Although arguably a motorcycle is a different vehicle than a scooter or e-scooter, the Texas DOT statistics reflect that riding two-wheeled vehicles with and without a helmet can be a lethal mode of transportation.
Houston Car Accident and E-Scooter Lawyers
As the recent Galveston case indicates, scooter accidents and car accidents can come at anytime from anywhere, and often the driver least expects it. As noted, a driver can be doing everything right and still fall victim to a drunk driving accident when such drivers are out on the road. If you are injured in a car accident or e-scooter accident, it's important to know your legal rights and options. Contact the experienced Houston e-scooter accident lawyers at Gilde Law Firm today for a free and confidential consultation and to see if they can help.
Sources:
ftp.txdot.gov/pub/txdot-info/trf/crash_statistics/2021/10.pdf
khou.com/article/news/crime/yordany-ferrer-intoxication-manslaughter-galveston-scooter-crash/285-5dd1eec7-de43-437f-bba8-c8142e9ee8a4