Now-Viral Video Shows Woman Fend Off Apartment Gym Attacker – Apartment Sexual Assault Claims Explained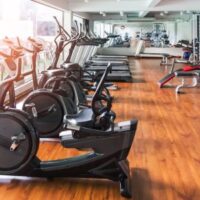 Few things could be more terrifying than being assaulted at a place you believe is safe and when your guard is down. The situation becomes even more disturbing when you believe that place is safe enough to let another person in the door, and that person viciously attacks you. Despite how truly scary such a situation can be, it is the exact scenario that is currently playing out on millions of computer and phone screens everywhere, as part of a recording of an attempted sexual assault that has now gone viral across the United States.
The viral video clip, which was taken in Tampa, Florida, shows an attempted sexual assault on a female by a male in progress. The scene of the crime is the woman's own apartment fitness facility.  The video starts off with the female, now identified as 24-year-old Florida resident Nashali Alma, working out alone. During her workout, the video shows that Ms. Alma notices a man standing outside the gym door, which appears to be locked. The man looks like he is trying to get into the gym to work out, but has perhaps forgotten his key. Ms. Alma goes to the door, and lets the man in. This is where things get worse. The video shows the man, 25-year-old Xavier Thomas-Jones, attempt to grab Ms. Alma by the waist and chase her. She struggles and demands that he get away from her, but he persists. Ms. Alma continued to struggle from Mr. Thomas-Jones and even hit him in the head several times as he pinned her to the floor. She was eventually able to get away from Mr. Thomas-Jones, and fled the gym for help. Ms. Thomas-Jones was ultimately arrested within less than 24-hours after Mr. Alma's report, and he was charged with sexual battery, false imprisonment, and kidnapping. Mr. Thomas-Jones is said to have attempted to carry out another assault on a different woman the day after he attacked Ms. Alma, but the woman's fiancé prevented the attack when he came into her apartment.
Apartment and Apartment Fitness Center Sexual Assaults – What Can You Do?
Unfortunately, attacks like Ms. Alma's terrifying and dangerous encounter are not all-too-rare. The truth is that sexual assaults can and do happen when we least expect them, and in places that we believe to be safe. If you are in Houston and you are the survivor of a sexual assault attack, there may be options for you to hold those responsible for your attack accountable, beyond pressing criminal charges. Under Texas sexual assault premises liability laws, the owner of the premises or business property where you were attacked may also be liable for money damages. Under Texas sexual assault premises liability laws, businesses and property owners who fail to keep their property safe may be liable to survivors of attacks that occur on their properties. To learn more about Texas sexual assault premises liability laws, and to discuss your own case, contact the experienced Houston sexual assault premises liability lawyers at the Gilde Law Firm. Contact the Gilde Law Firm today for a free and confidential consultation and learn about your rights for free.
Source:
cbsnews.com/news/florida-woman-gym-attack-tampa-nashali-alma-xavier-thomas-jones/