What is all the Buzz about AFFF? Firefighting Foam, Cancer, and Your Rights Explained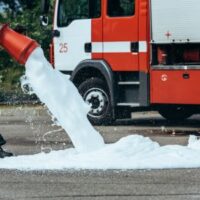 People all over Houston and across the country have recently been exposed to a new acronym: AFFF. With the term being talked about on the evening news, splashed across newspapers and online blogs, and discussed on radio shows, many people may wonder what exactly AFFF is and what they need to know about it.
At its core, AFFF is a substance that has been used by some of America's most beloved heroes for decades. Firefighters have been using AFFF since the 1960s to put out fires and to save American lives and homes. AFFF is also known as Aqueous film-forming foam ("AFFF") and is the type of foam that firemen and firewomen use to fight fires that originate from liquid – those fires that are first started by flammable materials such as oil, gasoline, or other highly flammable liquids. Unfortunately, even though AFFF has been used as a tool to help people, it is now also known to be hazardous to humans. AFFF contains per- and polyfluoroalkyl substances (PFAS), which are known to be extremely strong substances that are not easily broken down in nature. In humans, PFAS can cause severe negative health impacts, such as cancer, reproductive problems, and reduced immune systems.
Human Exposure AFFF
AFFF, as helpful as it may be for putting out fires, is certainly not something that humans should be exposed to. But how exactly are humans put at risk for AFFF exposure? First, firefighters and other personnel that regularly use AFFF are at high risk for AFFF exposure. In addition, humans can become exposed to AFFF through its use for system testing (at airports), firefighter training, and through spills or accidental release into the environment or water supply. AFFF is currently considered to be the primary cause of PFA contaminants in drinking water in the United States.
Where to Turn if You or a Loved One Are Sick Due to AFFF Exposure
If you or a loved one have been exposed to AFFF and, as a result, you have developed a terrible condition, such as cancer, it is important to learn about your potential rights and options as soon as possible. You may be entitled to compensation for your injuries from the companies that knew about AFFF exposure risks, but failed to protect vulnerable Americans from harmful exposure to their products. Thousands of individuals who have been exposed to AFFF and were injured as a result have filed claims as part of ongoing AFFF multidistrict litigation (MDL). If you are in the Houston area, the experienced and skilled Houston mass tort lawyers at the Gilde Law Firm are here to help you learn about your rights and entitlement to AFFF compensation. The experienced Houston mass tort lawyers at the Gilde Law Firm offer a free and confidential consultation to learn about your case and to see if they can help fight for you. Contact the Gilde Law Firm today and speak to a lawyer about your potential case today.