Initial Camp Lejeune Lawsuits Filed, Son Of Camp Lejeune Veteran And Wife File Multiple Myeloma Case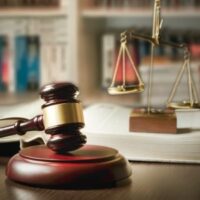 Lawsuits under the PACT Act and Camp Lejeune Justice Act are now being filed in court, as Camp Lejeune veterans and their family members seek justice for injuries connected to being exposed by the government to toxic and contaminated drinking water. As the lawsuits are filed and become public, the tragic and sometimes horrific stories of those who suffer or have suffered from Camp Lejeune-related illnesses and injuries are revealed in the public record. One such story, filed just recently on March 17, 2023 in the United States Federal Court for the Eastern District of North Carolina, where Camp Lejeune claims can be filed, details the unfortunate story of the son of a Camp Lejeune veteran's son and his fatal case of multiple myeloma, thought to be caused by exposure to Camp Lejeune's contaminated water.
According to the complaint filed in the case, Plaintiff Russell Park's father was a Marine stationed at Camp Lejeune from June, 1975, to June, 1979, and the family was transferred to live there during that time. As a child living on the Marine Corps Base, Mr. Park played many sports and was active, and, as a result, consumed a lot of water that was supplied to him and others on the base. In August, 2005, Mr. Park was diagnosed with the cancer Multiple Myeloma, which is a cancer of the body's plasma cells. Mr. Park completed radiation therapy, but was required to undergo more treatment, including two stem cell transplants. Mr. Park was scheduled for more chemotherapy, but ceased treatments due to the severity of the side effects he was experiencing, including loss of movement in the left leg, nerve damage (neuropathy), and loss of feeling in his right leg. During stem cell treatment, Mr. Park also developed MRSA. His treatments and medication leave him "consistently feeling ill, as though he had a bad flu, for [sic] couple of days following each injection." Ultimately, the lawsuit alleges, Mr. Park's "ailments have negatively affected Mr. Park's quality of life and his ability to perform at work." The lawsuit alleges that the toxic and contaminated water that Mr. Park was exposed to and drank and Camp Lejeune could be the cause of Mr. Park's injuries. Mr. Park and his wife have brought two claims against the government as a result of Mr. Park's injuries, a personal injury count on behalf of Mr. Park, and a loss of consortium count on behalf of Ms. Park.
Help with Your Camp Lejeune Claim in Houston
If you or a loved one have suffered from an injury or illness as a result of being exposed to contaminated water at Camp Lejeune, and you are located in Houston, it is important to contact an experienced Houston mass tort lawyer as soon as possible to determine your eligibility for compensation. The experienced Houston mass tort lawyers at the Gilde Law Firm offer a free and confidential consultation to learn about your case and to see if they can help. Contact the Gilde Law Firm today and speak to a lawyer about your case for free.