What Was In The Water? All About The Chemicals Trichloroethylene And Perchloroethylene Found In The Wells At Camp LeJeune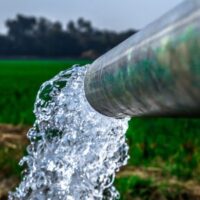 Camp Lejeune is a Marine Corps Base located in Jacksonville, North Carolina. Known for being located near the water and suitable for amphibious assault training, Camp Lejeune has been the home and training post for tens of thousands of veterans, servicemembers, and their families since the early 1940s. However, it is now widely known and accepted knowledge that for an over thirty-year time period, from 1953 to 1987, that the government subjected veterans and their family members to toxic and contaminated water at Camp Lejeune. During that time period, wells at Camp Lejeune held contaminated and dangerous water that was used by veterans and their family members for drinking and other everyday use. But what are the toxic chemicals that were in the contaminated water at Camp Lejeune and why are they so dangerous? It is important for veterans and their family members to be aware of two of the harmful toxins that were present in the water and the consequences of exposure to them, trichloroethylene and perchloroethylene.
Toxic Camp Lejeune Chemical #1: Trichloroethylene (TCE)
Trichloroethylene, otherwise referred to as TCE, is primarily used to make refrigerants and hydrofluorocarbons (chemicals used for cooling and refrigeration) and as a degreaser for metal equipment, according to the National Cancer Institute. TCE is also used in some commonly-used household products such as cleaning wipes, spot removers, spray adhesives, aerosol-based cleaning products, paint removers, and carpet cleaners. TCE is also said to be used by commercial dry cleaners as a chemical to remove spots on clothing. The continuous and prolonged use of TCE can cause many serious illnesses and cancers. TCE is known to cause kidney cancer, and is associated with an increased risk of contracting non-Hodgkin lymphoma and liver cancer. TCE was found in wells that were used at Camp Lejeune during the period 1857-1983.
Toxic Camp Lejeune Chemical #2: Perchloroethylene (PCE)
Perchloroethylene, or PCE, is a chemical used in dry cleaning, wood processing, and fabric manufacturing, and, like trichloroethylene, is also used as a metal degreasing chemical. PCE is also used in everyday products, such as leather protectants, paint removers, furniture strippers, water repellents, spot removers, wood cleaners, and glues. People are most often exposed to PCE when they use products containing PCE. PCE was also found to be in the water at Camp Lejeune that was used every day, as it was present in the well water there. PCE is known to cause liver cancer, kidney cancer, and leukemia, and may also cause birth defects when a mother becomes sick from exposure.
Help with Your Camp Lejeune Toxic Water Exposure Claim in Houston
Today there are options for veterans and their family members who were exposed to these two dangerous chemicals and others at Camp Lejeune, and who have suffered illnesses as a result. Under new legislation, Camp Lejeune veterans and their family members who were exposed to toxic water and who were injured can get money compensation from the government. If you or a loved one lived at Camp Lejeune between the years 1953-1987 and suffer from an illness from being exposed to toxic water at Camp Lejeune, contact a Houston mass tort lawyer today. The Houston mass tort lawyers at the Gilde Law Firm offer a free and confidential consultation to listen to your story and to see if they can help. Contact the Gilde Law Firm today and speak to a lawyer about your rights for free.
Source:
cancer.gov/about-cancer/causes-prevention/risk/substances/trichloroethylene