What Are The Most Common Causes Of Motorcycle Accidents?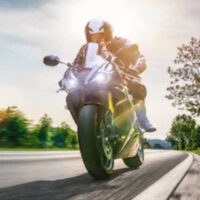 Motorcycle accidents are a serious issue in the United States, with around 4,000 deaths and 70,000 injuries from motorcycle accidents on average every year. It comes as no surprise to many that Texas is one of the most popular states for motorcyclists, with thousands of miles of roadway and warm weather year-round, yet far too often other drivers fail to look out for motorcycles on the road, and then the unthinkable occurs. At Gilde Law Firm, our compassionate and skilled Houston personal injury attorneys are here to help after a motorcycle accident. Call or contact our office today to schedule a free consultation of your case now.
Causes of Motorcycle Accidents
There are many reasons why a motorcycle accident happens on the Texas roadway, but oftentimes it involves a driver of a larger vehicle like a car, truck, or SUV failing to look out for motorcycles around them on the roads. Some of the most common causes of motorcycle accidents cited in the Houston area include other drivers engaging in the following behaviors:
Distracted driving,
Driving under the influence of alcohol or drugs,
Driver error,
Failure to check before making a left-hand turn,
Failure to check blind spots before changing lanes or turning,
Speeding,
Driving drowsy,
Following too closely to motorcycles,
Failing to signal before a lane change, and
Driving negligently in poor lighting or weather conditions.
Regardless of the reason, when a motorcycle accident occurs the outcomes are often devastating for the motorcyclist and their passenger.
Motorcycle Accident Injuries
Because a motorcycle lacks the protection that other, larger vehicles possess on the roadway, when an accident does happen it is usually the motorcyclist and their passenger that incur the most severe injuries. Even when wearing the proper protection and gear, motorcyclist injuries are often catastrophic. These injuries include:
Traumatic brain injuries (TBI),
Head trauma,
Facial trauma,
Neck injuries,
Spinal cord damage,
Broken bones,
Amputation injuries,
Soft tissue damage,
Back and spine injuries,
Nerve damage,
Severe road rash and lacerations,
Internal injuries and bleeding,
Paralysis,
Coma, and
Death.
It is critical for motorcycle accident victims and their loved ones that they receive the compensation that they deserve for the harm caused by this type of accident.
Compensation for Motorcycle Accidents
In Texas, victims of motorcycle accidents are entitled to economic and noneconomic damages. Economic damages cover all out of pocket expenses, including medical bills, lost wages, property damage, and the loss of future income and earning potential. Noneconomic damages cover all pain and suffering, emotional distress, disability, disfigurement, and loss of enjoyment of life caused by the crash. To learn more about what your case might be worth, talk to our office today.
Talk to Our Office Now
Have you or a loved one been hurt in a motorcycle accident in the Houston area? If so, the Gilde Law Firm and our knowledgeable personal injury lawyers are here to help. Call the office or contact us online today to schedule a free case consultation.