Waterpark Sexual Assault Underscores Sexual Assault Risks at Waterparks, Summer Fun Establishments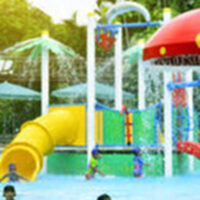 It is a parent's worst nightmare: their child goes to the waterpark for some summer fun to enjoy themselves, and is sexually attacked. The reality is, sexual assault incidents at waterparks and other entertainment and recreational businesses are not uncommon in the United States and throughout the rest of North America. In fact, a horrific case from Edmonton, Canada, that happened just this summer underscores just how dangerous waterparks and amusement parks can be for young children and teens.
According to Global News Canada, a Canadian teenager has now been charged after several young girls were allegedly sexually assaulted by him while swimming at the West Edmonton Mall World Waterpark in June, 2023. The perpetrator of the alleged sexual assault attacks is a 17-year-old boy, who was identified and arrested for sexual interference. Under Canadian sexual assault laws, sexual interference is a specific charge that involves touching for a sexual purpose. The victims of the 17-year-old boy are said to be at least seven young girls between the ages of 11 and 12 years old.
In response to the sexual assault allegations against the 17-year-old boy, the West Edmonton mall stated, "At World Waterpark, we take great pride in our ongoing commitment to safety and security. As a trusted facility, we have always maintained superior safety protocols, including a robust CCTV system and well-trained security and safety personnel." The mall also stated to news outlets that its staff "cooperated fully with police and will continue to do so throughout the investigation." The mall also noted that "no other details will be released to protect the identities of those involved." The 17-year-old male suspect has not been named, as he falls under the Youth Criminal Justice Act, which protects those who are young and accused from having their names be released. The investigation and criminal case are pending and ongoing.
Sexual Assault Premises Liability Claims in Houston
In Houston, when a person is sexually assaulted at a business property or premises, and the business owner or property owner was negligent in preventing the sexual assault from happening, the sexual assault victim may have claims for damages against not only the individual sexual assault attacker, but also against the business for failing to meet the standard of care in preventing such sexual assault attacks from occurring on the business property. These claims are called sexual assault premises liability claims under Texas civil laws.
The experienced Houston sexual assault & sex crime lawyers at the Gilde Law Firm are here to help answer your questions about Houston sexual assault premises liability cases, and to see if they can help fight for you in your Houston sexual assault premises liability case. The experienced Houston sexual assault sex crime lawyers at the Gilde Law Firm offer a free and confidential consultation to learn about your case. If you were sexually assaulted in Houston at a business property, learn about your rights and options today. Contact the Gilde Law Firm and speak to a Houston sexual assault sex crime lawyer about your case for free.