Vehicles That May Rollover In An Accident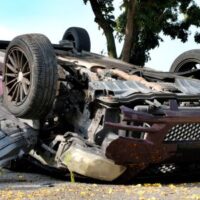 Rollover accidents are one of the most uncommon types of vehicle crashes, but they are also one of the deadliest. Studies have found that certain vehicles are more likely to be involved in a rollover accident than others for a variety of reasons. At the Gilde Law Firm, our experienced and knowledgeable Houston auto accident attorneys are here to help you get the compensation that you deserve after being injured in a rollover crash. To learn more about your legal options, call or contact our office to schedule a free evaluation of your case.
What Increases the Chances of a Rollover?
There are certain factors that can increase the chances that a vehicle will rollover in a crash. Vehicles with a higher center of mass are more likely to rollover than those with a lower center of mass. Speed is also a factor that contributes to rollovers as does steering sensitivity and sudden swerving on the road. Because they are usually narrower and taller than other vehicles, pickup trucks, commercial trucks, SUVs, and vans are more likely to rollover in an accident than smaller cars or motorcycles.
Whether an object trips a vehicle into a rollover also contributes to this type of crash. Tripped rollovers account for the overwhelming majority of rollover crashes. During the accident, the vehicle makes contact with a curb, guardrail, debris, or another vehicle that forces the motion of the vehicle sideways or up and causes it to rollover. Vehicles can also rollover untripped, especially if the center of mass is high or the weight distribution within the vehicle is uneven.
Vehicles More Likely to Rollover
Vehicle safety studies have found that certain types of vehicles are more likely to rollover in a crash. Non-commercial cars, trucks, and SUVs that have a higher probability of rolling over in an accident include the following:
Cadillac Escalade
Chevrolet Tahoe
Jeep Renegade
Jeep Wrangler Unlimited
Toyota 4Runner
GMC Yukon
Hyundai Accent
Dodge Nitro
Honda Element
Nissan Nv3500
However, it is important to note that given the right circumstances almost any type of car, truck, SUV, or motorcycle can be involved in a rollover crash. If you or a loved one was injured or killed in a rollover you may be entitled to compensation.
Compensation for Rollover Accidents
After a rollover accident, crash victims are entitled to economic and noneconomic damages for their injuries. Economic damages include coverage of medical bills, lost wages, property damage, and the loss of future earning capacity. Noneconomic damages compensate for pain and suffering, emotional distress, disability, disfigurement, and loss of enjoyment of life. If you lost a loved one in a rollover, compensation for a wrongful death claim includes coverage of all final medical expenses, funeral and burial costs, lost wages, and compensation for the loss of the victim's love, guidance, and companionship. To learn more, talk to our office today.
Call Us Now
Rollover accidents are scary and can lead to devastating injuries. For more information about your legal options for compensation, call or contact the Gilde Law firm in Houston today.