Treatment Of Bone Fractures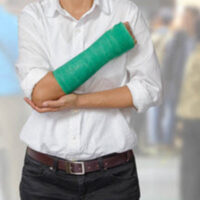 Bone fractures are one of the most common types of injuries that a person can sustain in an accident. While many people think that bone fractures are not a serious injury, in reality fractures can severely impact a person's life and cause significant distress. The experienced personal injury attorneys at the Gilde Law Firm in Houston understand how serious a bone fracture can be and are prepared to zealously advocate for the compensation you deserve after an accident. To learn more about your legal options, call or contact our office today to schedule a free consultation.
Types of Fracture Treatment
Typically, bone fractures are able to heal on their own after an accident; however, the pieces of the bone must be lined up correctly in order to heal properly. Medical professionals employ a number of different methods to ensure proper healing of a bone fracture after an accident depending on the type of fracture that occurred and where the fracture is located. Some of the most common treatment options include the following:
Splints
Splits are used when a fracture occurs to an extremity, such as the fingers or toes after an accident. A split is placed on the specific area where the fracture occurred to keep the appendage immobilized until the bone has healed.
Braces
A brace operates similarly to a split, but it is meant for other areas of the body. Most commonly, a split is used when a fracture occurs to the collarbones, but it can also be used for other fractures.
Plaster Cast
A plaster cast is the most common option for bone fracture treatment. A plaster of Paris cast is made from gypsum and water that covers bandages wrapped around the affected area. Once the plaster dries, the area covered is immobilized. Casts are typically worn for four to eight weeks depending on the severity and location of the fracture.
Traction
Sometimes, a serious bone fracture may need to be placed in traction to ensure that the bone sets properly. For example, long bones like the femur are difficult to keep aligned and must heal properly in children in order to avoid future complications. The leg may be placed in traction for days before other medical treatment to ensure that the bone is setting correctly.
Surgical Intervention
For open, compound, and other severe bone fractures surgical intervention may be necessary to properly treat the injury. The victim is placed under anesthesia and rods or pins or both are inserted into the bones in order to ensure proper placement for healing. After surgery, the location of the fracture is either set in a plaster cast or secured to an external frame to make sure that the bone sets properly.
Talk to Our Office Now
Do you have more questions about medical treatment for bone fractures after an accident? If so, the experienced and qualified Houston personal injury attorneys at the Gilde Law Firm are here to help. Call the office or contact us today to schedule a consultation of your case now.