Scaffold And Ladder Accidents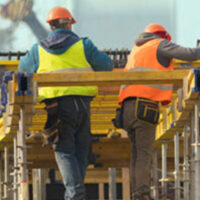 Around 65 percent of all construction workers use scaffolding on the job, and countless others use ladders to operate at elevated heights. Scaffold and ladder accidents are some of the most common causes of injuries and deaths on a construction site, and injured workers deserve to be compensated if this type of incident occurs. In Houston, the Gilde Law Firm is prepared to fight for the rights of workers injured in scaffold and ladder accidents. To learn more about what your case might be worth, call or contact our office today to schedule a free consultation.
Scaffold and Ladder Accidents
Falls from scaffolds and ladders account for nearly fifteen percent of all fatal construction site accidents every year and injure tens of thousands of people annually across the United States. There are many reasons why a fall may happen from a scaffold or ladder, but defective equipment and negligence are two of the main reasons why these accidents occur. Employers fail to ensure scaffold and ladder safety by utilizing defective equipment, exceeding the weight load on a scaffold or ladder, failing to secure scaffolds and ladders, lacking safety equipment like guardrails or harnesses, and lacking in qualified supervision. In some cases, scaffold structures have collapsed, ladders have fallen over, someone slips and falls, or someone is struck by an object that fell from a scaffold or ladder nearby. Regardless of the cause, accidents involving scaffolds and ladders can cause serious injuries.
Injuries Caused by Scaffold and Ladder Accidents
The injuries caused by scaffold and ladder accidents are often serious, as they routinely involve falling from or being struck by something from a significant height. Some of the most common injuries reported after this type of accident include the following:
Traumatic brain injuries,
Skull or facial trauma,
Spinal cord injuries,
Neck and back injuries,
Cuts, abrasions, or puncture wounds,
Soft tissue damage,
Nerve damage,
Internal organ injuries and internal bleeding,
Fractured bones,
Paralysis,
Coma, and
Death
In many cases, the injuries sustained by someone hurt in a scaffold or ladder accident result in some level of permanent disability or worse, which is why it is critical that the victims of these accidents and their loved ones get the compensation they deserve.
Compensation for Injuries
Construction site workers injured on the job in a scaffold or ladder accident are entitled to workers' compensation benefits. This includes coverage of all medical bills, temporary total disability payments, temporary partial disability payments, permanent partial disability payments, and permanent total disability if there is lifelong damage from the accident. If the scaffold or ladder accident is fatal, the family members of the victim are entitled to additional compensation under the state's workers' compensation laws. To learn more, call or contact our office today.
Talk to Gilde Law Firm
At the Gilde Law Firm, our experienced and knowledgeable Houston personal injury attorneys recognize the seriousness of scaffold and ladder accidents. We promise to fight for the compensation that you and your loved ones deserve. To learn more about what your case might be worth, call or contact our office today.