Rideshare Accident Highlights Risks Of Using App-Based Rideshare Services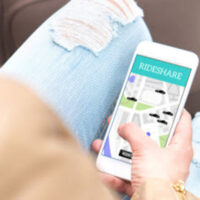 Gone are the days of being limited to using the telephone to call a taxi, or standing on the side of the street to hail one. With the emergence of rideshare apps, using cellphones to easily and conveniently call a rideshare, such as Uber, Lyft, Ola, and many others, has become the typical modus operandi of passengers everywhere going everywhere and anywhere. However, using a rideshare app to hail a ride is not completely without its risks, and rideshare accidents do occur. It's easy to forget, when in the comfort of an air-conditioned car being chauffeured to one's destination, that being in a rideshare is really the exact same thing as being in a car, and the same risks of driving on the road apply.
A tragic rideshare accident recently in Phoenix, Arizona, highlights that rideshare accidents occur just like any other accidents. According to reports, in the early morning hours of 2:00 a.m. in Phoenix, on July 25, 2022, a deadly rideshare accident occurred when a stolen car sped and crashed into a rideshare car carrying two passengers and the driver. The rideshare car, which was being driven as a Lyft, was attempting to make a left turn when the stolen car sped into it. Unfortunately, all three of the vehicle's occupants were killed in the rideshare accident, including both the driver and the two passengers. Multiple crashed cars were reported to have been found at the scene.
Hiring a Lawyer After a Rideshare Accident 
The horrific and fatal rideshare accident in Arizona brings a question to the forefront for victims of rideshare accidents: should I hire a lawyer if I am involved in a rideshare accident? According to the report, there has been both an increase in rideshare-related accidents and the number of rideshare accident victims that are seeking out legal help. The law is not always clear-cut as to who is at fault in a rideshare accident – for example, in this case, investigators note that since the car that crashed into the rideshare vehicle was stolen, there may not be any insurance, even if the driver of the stolen car is found to be liable. In addition to insurance issues, many other questions and issues arise in a rideshare accident, such as who is at fault, who will pay for medical and other expenses, and what steps should a rideshare accident victim take after being involved in a rideshare accident.
Seek out Legal Help After a Rideshare Accident
 Rideshare accident victims should seek out legal help as soon as possible after being involved in a rideshare accident. It is important to speak with an attorney who is skilled and experienced in rideshare accidents, and can navigate all the issues discussed (and more) with the victim, and educate them on their rights and options.
If you experience a rideshare accident in Houston, get in touch with the Houston personal injury lawyers at The Gilde Law Firm as soon as possible. We can help you learn your rights, options, and next steps.
Source:
fox10phoenix.com/news/questions-remain-after-deadly-crash-involving-rideshare-vehicle-in-north-phoenix