Pedestrian Accidents On The Rise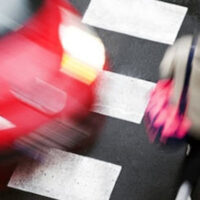 The Texas Department of Transportation (TxDOT) is warning drivers and pedestrians alike as pedestrian injuries and deaths are on the rise across the state. More people than ever are getting out and walking, but sadly drivers do not always look out for people on or near the roadway. When an accident occurs, the results are often devastating for pedestrians, and at the Gilde Law Firm our experienced Houston personal injury lawyers are here to help. To learn more about your legal options after an accident, call or contact our office to schedule a free initial case consultation.
Pedestrian Accident Statistics
According to TxDOT, pedestrian deaths now account for almost one in five traffic fatalities across the state. In 2019, 5,975 traffic accidents involving pedestrians occurred, resulting in 669 deaths across the state. This was an increase of nearly five percent from the year prior, and over 1,300 pedestrians in 2019 were seriously injured as a result of these crashes. From 2015 to 2019, a total of 3,150 people died because of pedestrian accidents on the road. Large urban areas such as Houston account for more pedestrian accidents than rural areas, and these accidents are more likely to occur in the evening and nighttime hours than during the day.
What Causes Pedestrian Accidents?
The Texas Department of Transportation reported that nearly twenty-five percent of all pedestrian accidents involved alcohol in 2020. In addition to being under the influence, other common causes of accidents involving pedestrians struck by vehicles include the following:
Speeding,
Failure to yield the right of way,
Failing to check intersections,
Failing to check before making a left-hand turn,
Passing too close to pedestrians,
Inexperienced drivers,
Driving distracted, and
Driving drowsy.
Injuries Caused by Pedestrian Accidents
Pedestrians have literally no protection compared to the driver that they are struck by, and because of that the overwhelming majority of pedestrian victims suffer catastrophically worse injuries than the driver who hit them. These injuries are often severe, even if the vehicle was traveling at a relatively low rate of speed, and they often require substantial medical care. Commonly reported injuries after a pedestrian accident in Texas includes:
Traumatic brain injuries (TBI),
Head and skull injuries,
Facial trauma,
Neck injuries,
Spinal cord injuries,
Internal injuries,
Internal bleeding,
Fractured bones,
Severe soft tissue damage,
Lacerations and road rash,
Nerve damage,
Back and spine injuries,
Amputation injuries,
Crushing injuries,
Paralysis,
Coma, and
Death.
How a Lawyer Can Help
After a pedestrian accident, the last thing that an accident victim wants to worry about is their legal case. Hiring a qualified attorney relieves that burden and allows an accident victim to focus solely on their recovery. A lawyer handles all communication and negotiation with the insurance companies, and they will not allow a settlement for anything less than the full and fair value of the claim. If necessary, a lawyer can take the case to trial in order to ensure that a pedestrian victim is fully compensated for their injuries.
Talk to Our Office
If you would like to learn more about filing a claim after a pedestrian accident in Houston, call or contact the Gilde Law Firm today to schedule a consultation.
Resource:
txdot.gov/inside-txdot/media-center/statewide-news/004-2021.html