National Safety Council Releases Large Truck And 18-Wheeler Truck Injury Statistics; Dangers Of 18-Wheeler Truck Accidents Highlighted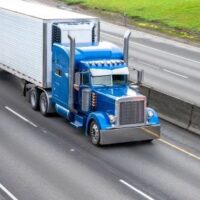 18-wheeler trucks can be found driving all over Texas roads at any time of the day. To get goods from hubs to retail stores, 18-wheeler trucks, or semi-trucks, travel that important "last mile" to get consumers all over the Lonestar State what they need for everyday living. Food, clothes, computers, cars, and even milk and water are all transported on 18-wheeler trucks by hard-working truck drivers every day. As important as 18-wheeler trucks are to Texans and to people throughout the United States, they can also be very dangerous when involved in a motor vehicle accident, particularly with regular cars, motorcycles, and pedestrians out on the road. It is without question that 18-wheeler trucks, due to their sheer size and weight, can act as lethal machines when involved in motor vehicle collisions. Indeed, accidents involving 18-wheeler trucks can be extremely life-threatening, if not fatal.
In order to inform the public about the dangers of 18-wheeler trucks and large trucks in the United States, the National Safety Council conducted a study and reported injury facts and statistics to the public via their website. Here are some of the important facts that the National Safety Council revealed about 18-wheeler trucks and other large trucks when it comes to truck-involved accidents and injuries:
In 2020 alone, 4,842 large trucks (defined as "any medium or heavy truck, not including buses and motorhomes, with a gross vehicle weight rating greater than 10,000 pounds") were involved in fatal motor vehicle accidents;
The fatality rate of large truck-involved motor vehicle accidents went down 5% from 2019, but up 18% from 2011;
Large trucks account for 9% of vehicles involved in all fatal crashes;
Large trucks account for 10% of total vehicle miles traveled by all vehicles;
In 2020, 107,000 large trucks were involved in motor vehicle collisions that resulted in an injury. This is a 10% decrease from 2019;
4,965 people lost their lives in large-truck-involved motor vehicle accidents in the year 2020 alone; this represents a 1% decrease in deaths since 2019, but a 31% increase in fatalities due to large truck accidents since 2011.
Hope and Help for 18-Wheeler Truck Accident Survivors
If you or a family member has been injured in an 18-wheeler truck accident, it is important to learn about your legal rights and options as soon as possible. In Houston, the Gilde Law Firm offers a free and confidential consultation to learn about your 18-Wheeler truck accident and to see if they can help fight for you to get money compensation due. It is important to know that due to Texas laws, there is a limited time to file a claim for compensation, so the sooner you speak to an experienced Houston truck accident lawyer, the better you can protect your rights to compensation under the law. Contact the Gilde Law Firm today and speak to a lawyer about your rights and options for free.
Source:
injuryfacts.nsc.org/motor-vehicle/road-users/large-trucks/