Jury Awards New Jersey Family Members $96 Million in Trucking Accident Lawsuit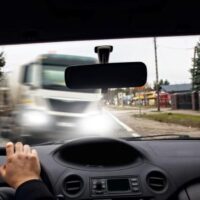 A New Jersey mother and wife received news that a Wayne County, New Jersey, jury awarded her $96 million in damages in her lawsuit against a trucking company for the fatal accident of her husband and son last week. The 18-wheeler truck accident occurred in Sterling Heights, New Jersey, several years ago, in 2018.
Jude Attianese and his son, Zachary Attianese, were traveling to the funeral of a family member on New Jersey's I-75 in Brownstown Township, and had just placed an order for pizza with family members before traffic slowed on the interstate, due to construction work. The Attianeses are said to have been traveling at approximately 5 miles per hour to slow for the construction work, when their vehicle was hit from behind by an 18-wheeler semi-truck traveling at a reported 55 miles per hour. The Attianeses are said to have been only 30 minutes away from their destination, the pizza restaurant. It was later revealed that the truck that hit the Attianeses and killed them belonged to a Canada-based trucking company called Challenger Motor Freight, and the driver of the 18-wheeler truck was a Challenger Motor Freight employee. According to reports, the Challenger Motor Freight truck driver that hit the Attianeses was known by Challenger Motor Freight to suffer from Parkinson's disease and had "failed to perform company assessments that would have revealed that he was incompetent to drive." According to news reports, the 18-wheeler truck driver also was not compliant with his medical treatment. Natalie Attianese, wife of Jude and mother of Zachary filed a lawsuit against Challenger motor freight for the wrongful death of her loved ones. The $96 million jury award result is said to be the one of the largest in Wayne County. Challenger Motor Freight is reportedly in the process of an appeal.
Justice for 18-Wheeler Truck Accident Victims and Survivors in Houston
In Houston, both survivors of 18-wheeler truck accidents, and those who have been involved in fatal 18-wheeler trucking accidents, have rights and options under Texas personal injury laws. A person who is injured in an 18-wheeler trucking accident due to the negligence or recklessness of the truck driver and/or trucking company employer may have a claim for compensation for their injuries. In addition, if a loved one is killed in an 18-wheeler trucking accident due the fault of an 18-wheeler truck driver or the trucking company employer, certain members of their family may be entitled to compensation under wrongful death laws.
If you or a loved one has been injured in an 18-wheeler trucking accident in Houston, due to the negligence of the 18-wheeler truck driver and/or their employer, it is best to chat as soon as possible to an experienced Houston truck accident lawyer as soon as possible. The experienced Houston truck accident lawyers at the Gilde Law Firm offer a free and confidential consultation to learn about your case and to see if they can help you get justice. Contact the Gilde Law Firm today and speak with a Houston truck accident lawyer about your rights for free.