Is My 18-Wheeler Trucking Accident A "David And Goliath" Case? Bringing 18-Wheeler Truck Accident Lawsuits Against Large Companies In Houston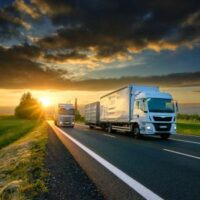 A motor vehicle accident of any kind is a scary experience for anyone. Whether an accident on the road is a massive crash or a tiny fender-bender, the experience ranges from stressful to deadly and terrifying, and the consequences range from a few minutes of delays and insurance paperwork to actual perilous death. Sometimes the drivers of the vehicles that hit us are uninsured and judgment-proof (in other words, unable to pay any money judgment) single individuals, and sometimes they are employees of massive companies with huge budgets. A not-so-rare scenario in Houston in the latter case occurs when an 18-wheeler truck hauling a heavy load, or even an empty trailer, negligently causes a motor vehicle accident with other drivers on the road. In these cases, often the driver is employed by a major national trucking company, with an arsenal of in-house lawyers and what seems to be an endless defense budget. For a person who has been injured in a trucking accident by a driver of a huge trucking company, the odds of prevailing in a lawsuit for damages may seem like a tale of "David and Goliath" proportions. However, the truth is that no matter the defendant, injured drivers are entitled to compensation for injuries sustained from another person's (or company's) negligence. Here are three reasons why a person should consider bringing a lawsuit against a large trucking company when they are injured in a trucking accident due to the fault of the truck driver.
Reason #1. The Statute of Limitations
Believe it or not, almost all legal claims have an expiration date. This is called the "statute of limitations." The "statute of limitations" is the time by which a person must file a claim in court, or else they are forever barred from bringing a lawsuit against the person or entity that injured them. The law is no different for individuals who are injured by truck drivers in Houston. Generally, a person only has 2 years from the date of the injury caused by the trucking accident to bring a lawsuit in court for money damages. For this reason, if a person is interested in bringing a case against a negligent truck driver or trucking company, they should not delay. Otherwise, they may lose their right to sue in court.
Reason #2. You Have Rights
Simply put, regardless of how big a company is, it has to follow the same laws as everyone else. Just because a trucking company seems big and powerful, it still has lawyers, either in-house or hired for the case, that will assess the risks of a lawsuit brought against it, and advise as to next steps. The surprising reality is that larger companies often have more sophisticated legal counsel, who are good at analyzing the risk that the company faces, and can make a sound recommendation on whether to litigate or settle. If you have a good faith and legitimate case, this can actually make your case less of an all-out battle in court. So, in fact, there is often an inverse relationship between the size of the company and the likelihood of resolving the case without protracted litigation.
Reason #3. Your Lawyer Will Fight for You
Finally, something to remember is that you don't have to face what appears to be a "Goliath" alone. Working with a skilled and experienced Houston truck accident lawyer is the best way to mount a strong case and litigation strategy. If you or a loved one has been injured in an 18-wheeler truck accident in Houston, reach out to the Gilde Law Firm for a free and confidential consultation to learn your rights and options. Contact the Gilde Law Firm today and speak to a lawyer for free.