Into The Weeds: The Nexus Between Roundup And Non-Hodgkin's Lymphoma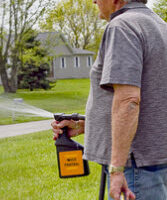 Most people, especially those who have a green thumb or a person with a green thumb in the family, are familiar with the commonly-used household weed killer Roundup. However, many people may not be aware of the dangerous and fatal risks to human health that Roundup poses, and the deadly cancers that are caused by Roundup exposure. With the proliferation of Roundup litigation in the media and in the courts, it is helpful for Americans to know what exactly Roundup is, the nexus between Roundup and dangerous cancers, and the risks of those cancers.
A Commonly-Used Weed Killer
We have all probably come across a bottle of Roundup in our lifetimes. Whether on a hardware store shelf or in our own garages, Roundup has been in American retail stores and available for home use since the early 1970s. Roundup was created and produced by the agricultural chemical and biotechnology company Monsanto, which German-based pharmaceutical and biotechnical company Bayer later acquired in 2018. Roundup is a liquid weed killer, otherwise known as an herbicide. It is marketed as a liquid spray that consumers can use in their home gardens.
Roundup and Glyphosate
As an herbicide, Roundup's formula contains a powerful chemical called glyphosate, which is a chemical used by many weed killer brands around the world. Although originally companies producing glyphosate-based weed killers claimed that glyphosate was safe for consumers to use, studies suggest the opposite. Glyphosate exposure is now linked in humans to damage to human DNA and chromosomal damage, as well as non-Hodgkin's lymphoma, a very serious type of cancer.
The Symptoms and Risks of Non-Hodgkin's Lymphoma
Non-Hodgkin's lymphoma is one of the most well-known consequences of glyphosate exposure through the use of Roundup. Non-Hodgkin's lymphoma is a blood cancer that affects the lymphatic system, the part of the human immune system and that filters water and toxins from the body. Symptoms of non-Hodgkin's lymphoma include sudden weight loss, swollen lymph nodes, night sweats, fatigue, persistent cough, fever, decreased appetite, nausea, chest discomfort, shortness of breath, difficulty with motor functions, abdominal pain and vomiting.
Justice for Cancer Victims from Roundup Exposure
Non-Hodgkin's lymphoma is a very serious cancer that can significantly impact a person's life, and even lead to death. If you or a family member have been diagnosed with non-Hodgkin's lymphoma, another type of cancer, or any other illness after using Roundup, it is important to know your legal rights and options for recovery. Under Texas laws, victims who have been diagnosed with cancer and/or other illnesses from exposure to Roundup may be able to recover monetary compensation. If you are interested in finding out about your entitlement to money compensation for Roundup exposure, it is best to speak with an experienced Houston Roundup injury lawyer. The Gilde Law Firm's experienced Texas Roundup injury lawyers offer a free and confidential consultation to learn about your Roundup exposure case and to see if they can help. Contact the Gilde Law Firm today to speak to a lawyer for free.