Internal Injuries Caused By Accidents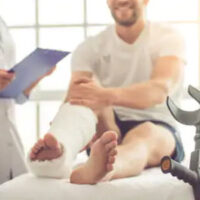 Internal injuries are some of the most serious harms that can befall a victim in an accident. Not only can the results of internal injuries be catastrophic but depending on the type of injury they can also be some of the most difficult to identify. The experienced and qualified Houston personal injury lawyers at the Gilde Law Firm are here to help you or your loved one get the compensation that they deserve after an accident that caused internal injuries. To learn more about your legal options, call or contact our office today to schedule a free consultation of your claims.
Why are Internal Injuries Serious?
Internal injuries are serious for a number of reasons. First, an internal injury has the potential to cause significant damage to a victim if not treated immediately. Unfortunately, many types of internal injuries cannot be identified without specific medical testing, and if medical attention is not available right away internal injuries can also cause substantial complications, or worse, for accident victims.
Internal injuries also often require a great amount of care after an accident. Many types of internal injuries result in lengthy hospital stays, substantial medical treatment, and prolonged rehabilitation after the fact. Some internal injuries may even result in permanent disability or disfigurement, depending on the circumstances of the case.
Common Types of Internal Injuries
Some types of internal injuries are more common than others after an accident. Internal injuries seen most often in the Houston area following an accident include the following:
Traumatic Brain Injuries
The term traumatic brain injury covers a wide range of injuries that occur specifically to the brain. This includes injuries where the brain is bruised as well as brain bleeds. Bleeds can place the brain under severe pressure that requires surgery to alleviate. Traumatic brain injuries can also cut off oxygen to some or all of the brain, resulting in permanent damage.
Broken Bones
One of the more identifiable internal injuries is when an accident victim breaks a bone. There are many different ways that a bone can break, and treatment varies depending on the severity of the break as well as how many bones are broken in the accident.
Pneumothorax
Related to broken bones, pneumothorax occurs when a rib is broken and punctures a lung. The lung then deflates and collapses, making it difficult for the victim to breathe. This can also release air into the chest, placing pressure on other organs and causing complications.
Organ Damage
Organ damage can occur in an accident as a result of a high force of impact or penetrating force. Common organ damage includes injuries to the kidneys or liver as well as to the spleen. A spleen rupture can result in significant internal bleeding that requires immediate surgery to correct.
Internal Bleeding
When blood vessels rupture inside the body it can cause internal bleeding, which if not stopped can lead to complications or death. Symptoms include lightheadedness, fatigue, thirst, pale complexion, abdominal pain, and coldness.
Talk to Our Office
Have you or a loved one suffered internal injuries in a Houston accident? Call the office or contact us at the Gilde Law Firm today to schedule a consultation of your case now.
Source:
webmd.com/first-aid/internal-bleeding-causes-signs#:~:text=Internal%20bleeding%20is%20one%20of,trauma%20stops%20on%20its%20own