Insurance Coverage In A Rideshare Accident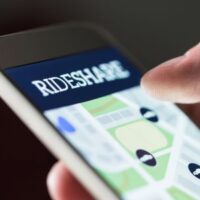 While rideshare companies are one of the most popular methods of transportation, issues can arise about who will pay for damages after an accident. All drivers, whether they are working as a rideshare driver or not, are required by law to hold auto insurance if they get behind the wheel. However, this insurance coverage can vary substantially depending on who was at fault for the accident and when the crash occurred. At the Gilde Law Firm, our experienced and knowledgeable Houston personal injury attorneys will zealously advocate for your case after a rideshare accident. To learn more, call or contact our office today to schedule a free evaluation of your case.
Fault of Non-Rideshare Driver
When an accident involves a rideshare and non-rideshare driver, the first question that must be answered is who is at fault? If the answer is the non-rideshare driver, the auto insurance held by that driver applies to the damages of the accident. In Texas, the minimum requirement for drivers includes $30,000 for bodily injury liability per person, $60,000 for bodily injury liability per accident, and $25,000 for property damage caused by the crash. However, many drivers choose to carry more than the minimum limits of auto insurance coverage. If the damages exceed the insurance limits, injury victims may be able to go after the driver personally for additional compensation.
Fault of the Rideshare Driver
The question of how much insurance coverage applies when a rideshare driver is at fault is a more complicated question. The first question that must be asked is when the accident took place. Like non-rideshare drivers, rideshare drivers are required under law to carry auto insurance, but their minimums are higher at $50,000 for bodily injury liability per person, $100,000 for bodily injury liability per accident, and $25,000 for property damage. If the rideshare driver is not using the app and using the vehicle as a regular driver, their auto insurance applies. The same is true if the rideshare app is logged on and the driver is waiting for a rideshare request.
However, if the rideshare driver has matched with a passenger and is on their way to pick them up, or if the ride is in progress and the accident occurs there may be more insurance coverage available to injury victims. When an accident happens during this time, the driver's auto insurance kicks in first. However, if the damages exceed their policy premiums, the rideshare company also provides an additional million dollars in insurance coverage that an accident victim can utilize to fully compensate their claims. To learn more about this distinction, talk to our office today.
Talk to Our Office
Have you or a loved one been involved in a rideshare accident in the Houston area? If so, the experienced and highly qualified attorneys at the Gilde Law Firm are here to help. Call the office or contact us today to schedule a free consultation of your rideshare case now.