Houston Woman Falls Overboard An Alaska Cruise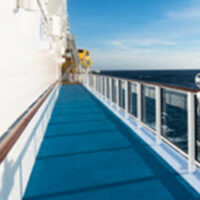 Cruising is back in full swing after the long pause caused by the COVID-19 pandemic. And while cruising with family and friends can be a fun, relaxing, and convenient way to travel, just like on any ship traversing the open water, cruise ships can present hazards that travelers should consider, and be actively aware of while they sail on their cruise. Falling overboard is one such hazard that a cruise ship presents to passengers. Although cruise ships provide safety briefings and monitoring of the ship throughout travel, passengers do occasionally fall overboard. One such terrible accident occurred in May, 2022, when a Houston woman tragically fell overboard during a cruise from Seattle to Alaska.
The Houston woman, now identified as a 40-year-old who was aboard one of the major cruise lines that sails from Seattle to the coast of Alaska, was aboard the ship as it sailed in Alaska's upper Lynn Canal in May, 2022, when, according to authorities, she fell overboard in the early morning hours, around 3:00 a.m. The United States Coast guard is reported to have conducted a search in hopes of locating the woman, but, unfortunately, they were unable to recover her. The search has now officially been suspended, and the Alaska State Troopers Alaska Bureau of Investigation is conducting an investigation into the death of the woman. According to reports, a death investigation is a standard procedure in cruise ship accidents resulting from passengers falling overboard.
Survival Time is Short if a Passenger Falls Overboard on a Cruise Ship 
Needless to say, falling overboard on a cruise ship is one of the most fatal cruise ship accidents that can occur. Although cruise ships practice safety measures, and, in this case, stopped to search for the woman who fell overboard, according to the U.S. Coast Guard, the time that a person can survive in Alaska's waters where the woman fell, which is estimated to be around 41 degrees Fahrenheit, is approximately only six hours. In the vast black waters, compounded by nighttime darkness, it is extremely difficult to locate a person who has fallen overboard, and certainly before hypothermia sets in or other complications become fatal.
Other Cruise Ship Accidents while Aboard 
While falling overboard a cruise ship is obviously extremely fatal, other cruise ship accidents can occur while passengers are on board that may not be fatal, but may be serious, and even life threatening, in some cases. For example, passengers may slip and fall aboard a cruise ship due to slippery surfaces, injuring themselves from impact of the fall. Cruise ship accidents can also occur if a cruise ship collides with another boat, port, or other object while sailing. Other less obvious cruise ship accidents can occur while on board, such as sexual assaults, injuries from fires and explosions, and even carbon monoxide poisoning while onboard.
What to do if You Experience a Cruise Ship Accident 
If you experience a cruise ship accident during your travels, it's important to speak with an experienced personal injury lawyer as soon as possible. The Gilde Law Firm provides a free and confidential consultation, and can help you learn your rights, options, and next steps. Our Houston personal injury lawyers can help you today. Contact the Gilde Law Firm to get your consultation started today.
Source:
abc13.com/selena-pau-pres-houston-woman-overboard-ship-celebrity-cruises-alaska-state-troopers/11876037/