Houston Police Officer Falls Victim To Drunk Driving Accident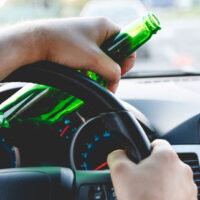 It is very well known – perhaps obvious – that driving a vehicle while under the influence of drugs and/or alcohol is incredibly fatal behavior. The minute a drunk driver leaves a parking lot, the roads are less safe, and accidents are likely to occur. Whether a driver is under the influence of alcohol, marijuana, or other drugs, other drivers on the road must do their best to avoid accidents with drunk drivers, but even the most careful and law-abiding drivers may fall victim to drunk driving accidents. The case of a Houston police officer who was struck by a truck driven by a drunk driver while his police car was parked is one of the latest victims of a drunk driving accident in Houston.
Local news reports that the drunk driving accident occurred around 5:00 in the morning on Thursday, August 18. The police officer was parked at the 12800 block of S. Post Oak Road and Allum Road, and was sitting in his car with the light on when he was struck by the other vehicle. The police officer had parked his police vehicle so it was blocking a lane when he responded to an earlier incident involving a tree that caught on fire. While he was sitting in his vehicle after responding to the scene, the drunk driver, who was operating a truck, hit the police officer's vehicle. The police officer was taken to the hospital and his current condition is unknown, but he suffered leg and back injuries. It is expected, fortunately, that the police officer will survive. Authorities who responded to the drunk driving accident determined that the driver of the truck was, in fact, impaired.
Houston Drunk Driving Accident Statistics
Unfortunately, drunk driving accidents are not on the decline in recent years. According to another local news report, in 2021 alone, 845 individuals died in car accidents in the Greater Houston area. Of the 845 fatal accidents, 28% were related to intoxication. The report, based on Texas Department of Transportation data, also noted that Harris County "leads the nation in drug and alcohol fatalities on the roads." The report also noted that the number of fatal drunk driving accidents increased by 9% from 2020 to 2021.
We Can Help You Recover Compensation for Your Injuries
The unfortunate truth is that drunk driving accidents are not a rarity in Houston, with the trend being several hundred drunk driving accident deaths occurring every year in the city alone. When a person falls victim to a drunk driving accident, one of the initial things that they should do is contact an experienced Houston car accident lawyer, who can help the injured person understand their rights and options and navigate tough questions. Car accident victims will want an experienced lawyer by their side to handle issues such as who was at fault and whether any other parties are liable, among other important legal questions. The experienced Houston drunk driving accident lawyers at the Gilde Law Firm offer a free and confidential consultation to learn about your case and to see if they can help. Contact the Gilde Law Firm today to set up your free and confidential consultation and speak to a lawyer.
Source:
fox26houston.com/news/houston-police-officer-crash-post-oak