Houston Construction Workers Rescued From Trench Narrowly Escape Workplace Injuries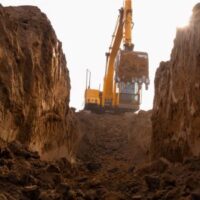 There is no doubt that construction work is some of the most dangerous work in the United States and in Texas. On a construction site, workers must navigate a workplace filled with heavy equipment, loud noises, sharp tools, high platforms and even sometimes low trenches and ditches. Construction site work is so dangerous that when accidents happen, the injuries workers sustain are often fatal. Fortunately, not all construction site accidents end in fatalities and quick rescue efforts can leave workers sometimes unscathed. Such was the case in Houston recently when two construction workers became trapped inside of a trench.
According to local news reports, the accident occurred on Monday, October 17 in the Montrose area of Houston. A caller to the Houston Fire Department reported that some people were trapped at the 1900 block of Montrose Boulevard at Bomar Street. Houston Fire Department personnel were deployed to the scene and rescued two male construction workers that had been trapped inside of a trench near the construction site where they were working. Fortunately, the rescue attempt was successful and the two construction workers were taken to the hospital for evaluation. Aside from the workers being trapped in the trench, no other injuries were reported. Local authorities do not have details about how the two construction workers became trapped inside of the trench at this time.
Justice for a Workplace Injury
Although the construction industry is clearly an industry in which many workplace accidents occur, there are many other industries where workplace injuries are not uncommon. In Texas, according to the Texas Department of Insurance, workplaces that rank as being higher in non-fatal workplace injuries and illnesses include those in support activities for agriculture and forestry within the agricultural and forestry industry, manufacturing, transportation and warehousing, and educational and health services.
A workplace injury can happen to almost every worker in the workforce. In addition to the systems established in Texas and federally for workers to get help if they are injured on the job, such as workers' compensation and Social Security Disability, Texas negligence laws may provide justice to workers injured on the job due to the fault of their employers. If an employer's carelessness or negligence caused the workplace accident resulting in the worker's injury, the employer may be liable for damages and other money compensation to the employee. Texas negligence laws are complex and filing a case without a lawyer is no easy task. For those reasons, if you have been injured on the job as a result of your employer's negligence in Houston, it is important to reach out to an experienced Houston workplace injury lawyer as soon as possible to preserve your legal rights and entitlement to compensation. The experienced Houston workplace injury lawyers at the Gilde Law Firm offer a free and confidential consultation to learn about your case and to see if they can help you get justice. Contact the Gilde Law Firm today for your confidential consultation and speak to a lawyer for free.
Source:
abc13.com/houston-trench-rescue-fire-department-2-people-resuced-in-central-bomar-street/12340500/