Fighting AFFF with Fire: 5 Key Companies Involved with Aqueous Film-Forming Foam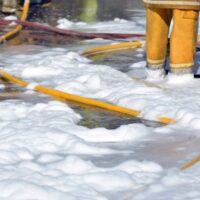 Millions of Americans are getting used to the terminology "Aqueous Film-Forming Foam", or AFFF. The revolutionary and life-saving substance used to fight fires now has been revealed as a dangerous and cancer-causing hazard, and those who have been exposed to AFFF and have been injured as a result are eager to get justice. But who are the key players who were involved with AFFF and who manufactured, produced, and, ultimately, exposed firefighters and other Americans to harmful and toxic chemicals that can cause cancers and other severe health impacts? Here are 5 key companies involved with AFFF that face or may face liability in the coming legal battles for justice over injuries caused by AFFF.
#1. DuPont de Nemours, Inc.
DuPont de Nemours, Inc., often called "DuPont", is an American chemical company headquartered in Wilmington, Delaware. DuPont is a large company, with its website boasting 6,600 employees and 29 manufacturing sites, as well as 2,900 customers in approximately 120 countries around the world. DuPoint is alleged to have been involved in the manufacturing of AFFF. On June 2, 2023, DuPont and several other companies announced that they had reached a settlement of all claims brought by public water suppliers in the United States for AFFF contaminated water.
#2. Chemours Company
Chemours Company is part of the DuPont family and "provide[s] solutions for industries ranging from automotive, paints, and laminates to advanced electronics, construction, energy, and telecommunications…." As part of the DuPont family and AFFF case against DuPont, Chemours was also a named party to the recently-announced AFFF settlement.
#3. Corteva Agriscience
Another AFFF company with connections to DuPont, Corteva Agriscience can best be described as a "spin-off" company of DowDuPont and DuPont, which became its own company. Corteva Agriscience is the third party involved in the AFFF settlement announced by DuPont last week. Corteva is alleged to have been involved in AFFF production and is, accordingly, alleged to be responsible for AFFF water contamination.
#4. Kidde-Fenwal, Inc.
A subsidiary of Carrier Global Corp., Kidde-Fenwal, Inc., is a company that specializes in fire protection and fire control. Kidde-Fenwal is alleged to have sold AFFF-containing products between the years 2007-2013 and, accordingly, is alleged to have contaminated public water sources across the United States. In Mid-May, 2023, Kidde-Fenwal announced that it filed for bankruptcy as a result of mass AFFF claims against it.
#5. 3M
3M is an American company that is known to be one of the leading producers of Per- and Polyfluorinated Substances (known as PFAS), used in making AFFF. 3M is alleged to not only have manufactured PFAS for use in its own products, but also is alleged to have sold PFAS to other companies, like DuPont.
Justice for AFFF Victims Against Responsible Actors in Houston
If you were exposed to AFFF and you suffer from cancer or another serious health impairment as a result, you may have a claim for money compensation for your injuries against responsible actors. The experienced Houston mass tort lawyers at the Gilde Law Firm represent victims of AFFF exposure to get justice due. Contact the experienced Houston mass tort lawyers at the Gilde Law Firm today for a free and confidential consultation to see if you are eligible and learn about your best next steps.
Source:
investors.dupont.com/news-and-media/press-release-details/2023/Chemours-DuPont-and-Corteva-Reach-Comprehensive-PFAS-Settlement-with-U.S.-Water-Systems/default.aspx