Construction Site Trench Collapse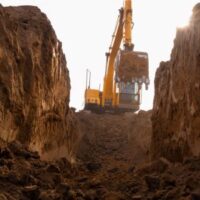 Construction sites all around the Houston area often have one or more trenches that workers and visitors to the site operate in and around. Trenches are narrow tunnels dug into the earth that can serve many different purposes, including to lay utilities like sewage, gas, water, and electric as well as to access areas that are needed underground. When trenches are not made properly or negligently maintained, they can collapse and cause devastating injuries to those around when it happens.
At the Gilde Law Firm, our dedicated and skilled Houston personal injury lawyers can help you get the compensation that you deserve after this type of tragic accident. To learn more, call the office or contact us today to schedule a free evaluation of your case.
What Causes a Trench Collapse?
There are many reasons why a trench may collapse on a construction site. The soil can be too dry or made of materials that do not hold up well when a trench is dug out. Wet weather and vibrations from the surrounding construction site work can also cause a trench to collapse. If heavy equipment or the dug out earth is placed too close to the edge of the trench, the weight can also cause a devastating collapse accident. Finally, if those responsible for the construction site are operating negligently or failing to adhere to safety standards when digging out a trench, a collapse accident is far more likely to occur. Regardless of the cause, when a trench does collapse the results can be catastrophic for those injured in the accident.
Injuries Caused by Trench Collapse
When a trench collapses, the earth caves in on the area that has been dug out on the construction site. Trench workers and those near the trench at the time of the collapse are vulnerable to suffering from one or more of the following injuries in this type of accident:
Suffocation,
Asphyxiation,
Electrocutions,
Drowning,
Lung injuries,
Crushing injuries,
Internal injuries,
Broken bones,
Traumatic brain injuries,
Blunt force injuries,
Paralysis,
Coma, and
Death
If you or a loved one has been injured in a trench collapse on a construction site, it is critical that you speak with a qualified attorney about your case right away to preserve your claims and right to compensation.
How a Lawyer Can Help
When a trench collapse occurs, the last thing that an injury victim wants to do is navigate the complexities of a legal case. A lawyer can shoulder the burden of the legal claims for compensation while an injury victim can focus on what is most important – their recovery. A lawyer will do their own independent investigation into the accident to determine every party liable for the collapse. They will handle all communication with insurance companies and the employer. They will file the legal paperwork in court and negotiate a settlement that covers all the costs of the accident. If necessary, a lawyer can even take the case to trial in order to get a victim the compensation that they deserve.
Talk to Our Office
To learn more about your legal options after a trench collapse in Houston, call or contact the Gilde Law Firm to schedule a free consultation today.