Common Causes Of Small Airplane Accidents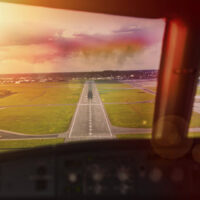 Aviation accidents are less common than other types of vehicle accidents, but when they do occur they happen more often with smaller aircraft than larger commercial planes. There are many reasons why a small airplane may be involved in an accident, and if you or a loved one has been injured in an aviation accident you may be entitled to compensation. The experienced Houston personal injury attorneys at the Gilde Law Firm are here to help you through this difficult time with top tier legal representation. To learn more, call or contact our office today.
Pilot Error
One of the most common causes of small airplane accidents is pilot error, which accounts for over fifty percent of all crashes. Piloting even a small aircraft is a difficult and complex task with many opportunities for error. Most pilot error occurs during takeoff and landing, and inexperienced pilots are more likely to cause an error than a seasoned professional. Inadequate pre-flight planning and inspection are two big reasons for small airplane accidents, as are pilots making errors in the amount or type of fuel or taking off in a poorly balanced aircraft.
Mechanical Error
Another common cause of small aircraft accidents is mechanical error. This can occur because of a defect in the design or manufacture of a part, or it can happen because of poor maintenance on the airplane. Preflight inspections are supposed to check for mechanical errors, but with small aircraft these inspections are not always as rigorous as larger aircraft. Depending on the cause of the mechanical error, there are many people who may share responsibility for an accident, including the pilot, aircraft owner, or parts manufacturer.
Inclement Weather
Poor weather is also often a contributing factor to small airplane accidents. Inclement weather can include rain, sleet, hail, windy conditions, lightning strikes, and ice. Poor weather can make operating a small aircraft difficult, causing turbulence, downbursts, and microbursts. Freezing precipitation on a small aircraft can also make it impossible to utilize important parts of the plane, which can also lead to a crash. It is the responsibility of the pilot and aircraft owner to determine whether the weather is good enough to operate this type of aircraft.
Landing Conditions
Finally, poor landing conditions can also lead to small aircraft accidents. These types of aircraft land on runways of all types and in all locations, with some that have more unconventional runways. If the runway is poorly designed, made of defective material, not properly treated for weather, or have objects incurring on the runway it can lead to devastating accidents with small airplanes. To learn more, talk to our office today.
Talk to the Gilde Law Office
In Houston, the experienced personal injury lawyers at the Gilde Law Firm understand just how devastating a small aircraft accident can be for an injury victim and their loved ones. If you are interested in learning more about what your case might be worth after an aviation accident, call or contact our office today to schedule a free case consultation.