Common Causes Of Defective Roads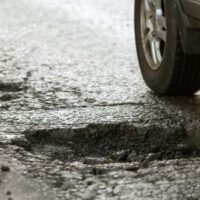 Defective roads contribute to countless accidents every year in Texas, but what many people do not realize is that there may be someone who can be held responsible when a crash happens because of defective roads. At the Gilde Law Firm, our experienced and skilled Houston personal injury lawyers are here to provide top tier legal representation if you or a loved one has been injured in an accident because of a defective roadway. To learn more, call or contact our office today to schedule a free case evaluation.
What is a Defective Road?
A defective road refers to any roadway that has been impacted by a hazardous condition or defect that makes it dangerous for drivers and their passengers. Some of the most common causes of defective roads include the following:
Negligent road construction
Roads are constantly under construction, and while working on the roads the construction crews need to ensure that their equipment and materials are out of the roadway. Failure to maintain proper safety protocols can result in roadblocks and materials in the roadway that can cause an accident.
Poor road maintenance
Another common cause of dangerous roads is poor road maintenance. Government entities have a duty to maintain the roads so that they are safe for vehicles to travel. Broken or missing guardrails, broken or missing lane dividers, faded lane lines, and broken traffic lights are all examples of poor road maintenance.
Unsafe road design
Sometimes the design of the roadway itself renders the road hazardous for vehicles. Incorrect or dangerous lane markings, steep slopes in the road with no runoff area, dips, poor water drainage, and drop-offs along the side of the road are all examples of unsafe road design. When these hazards do exist, the entity responsible for the road should have safety signs posted for vehicles, which often does not occur.
Uneven road surfaces
Related to poor road maintenance, uneven road surfaces cause many accidents for vehicles. Potholes are the most common example, but loose gravel, cracked roads, missing pieces of pavement, and uneven pavement can all result in a vehicle losing control on the roadway.
Debris in the roadway
Finally, debris on the road leads to a number of accidents annually. Debris can blow onto the road or fall off of other vehicles. Truck cargo, hubcaps, car bumpers, broken glass, animal carcasses, and more in the road can all lead to a driver swerving to avoid the debris or being injured when striking debris in the roadway. To learn more about defective roads and whether someone may be liable in your accident, talk to our office today.
Talk to Gilde Law Firm Now
There are many ways that a defective road may cause an accident, and if this has happened to you or a loved one you deserve to be compensated for your injuries. At the Gilde Law Firm in Houston, our experienced and skilled personal injury lawyers are here to help identify those responsible for your accident. Call or contact the office today to schedule a case consultation.