Bone Fractures Caused By Accidents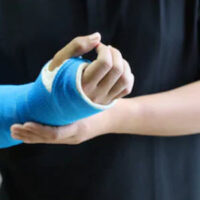 Bone fractures are one of the most common injuries inflicted upon accident victims, and while many people think of fractures as a relatively minor injury in reality a bone fracture can require serious medical treatment and cause substantial harm to an accident victim. There are many different types of bone fractures, each with its own medical protocol and level of compensation. If you or someone that you know has suffered a bone fracture in an accident, the Houston personal injury attorneys at the Gilde Law Firm are here to help. Call the office or contact us today to schedule a free consultation.
Different Types of Bone Fractures
Bone fractures come in many different types, and medical professionals often use specific nomenclature when describing the various types. A fracture can be open or closed, which refers to whether or not the bone breaks the skin as well as partial or complete, which refers to the extent of the break of the bone. Bone fractures can also be stable or displaced, which describes whether the bone remains lined up or if there is a gap in the fracture. The most common types of bone fractures that occur in an accident include the following:
Transverse: Fractures that occur as straight lines across the bone
Spiral: Fractures caused by a twisting motion
Greenstick: Partial fractures that mostly occur in adolescents due to the flexibility in their bones,
Oblique: A fracture that is diagonal across the bone
Impacted: When the broken ends of a bone are driven together
Segmented: When the same bone is fractured in two places, leaving a floating piece between the breaks
Comminuted: When a bone is broken in three or more places and often results in bone fragmentation
Depending on the type, a bone fracture may require a simple splint that heals within a few weeks or significant surgery with metal pins to repair the damage.
Compensation for Bone Fractures
Because different types of bone fractures vary in severity and treatment, compensation for this type of injury after an accident can vary substantially, as well. Damages awarded to an accident victim that suffers a bone fracture include economic and noneconomic compensation. Economic damages cover all out of pocket expenses incurred by the injury victim, including all medical expenses related to the accident, lost wages, any property damage, and for any loss of future income or benefits. Noneconomic damages compensate a victim for their pain and suffering, emotional distress, disability, disfigurement, and loss of enjoyment of life caused by the injury. To learn more about what your case might be worth, talk to our office today.
Call or Contact Our Office Today
Have you or a loved one been injured in an accident in Houston that resulted in a bone fracture, or worse? If so, the experienced and knowledgeable personal injury lawyers at the Gilde Law Firm are here to help. Call the office or contact us online to speak with a lawyer today and schedule a free evaluation of your injury claims.