18-Wheeler Driver on TikTok kills 5 in Fiery Arizona Trucking Accident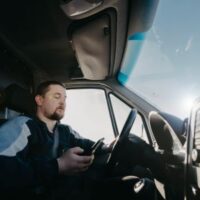 Distracted driving is a hazard that has been made even worse by the proliferation of cell phone use in cars. Despite the fact that it is well-known that distracted driving can lead to serious and fatal car accidents, and the fact that using a cell phone while driving is unlawful in most states, everyday people in Houston and throughout the United States hop in their cars and onto their phones for their daily commute. However, the picture becomes even more concerning when 18-wheeler semi-trucks are added to the mix of traffic. Semi-trucks are heavy and unwieldy machines that can cause extensive damage to smaller vehicles on impact, even when they are unloaded. Unfortunately, an extremely tragic 18-wheeler truck accident involving distracted driving occurred earlier this year in Arizona, claiming the lives of 5, and demonstrating just how dangerous 18-wheeler trucks can be when truck drivers aren't focusing on the road.
According to local reports, 36-year-old Danny G. Tiner, was driving an 18-wheeler semi-truck for his employer, a trucking company, on January 12, 2023. On his route, Tiner drove through a construction zone on Arizona's I-10, past Chandler Boulevard. Tiner was speeding at 68 miles per hour through the 55-mile-per-hour construction zone when he collided with two cars, pushing them into another semi-truck and two other vehicles. The two cars that Tiner crushed between the semi-trucks broke out in flames and a total of five people were ultimately killed. The victims of the 18-wheeler truck accident were identified as Gilberto Franco, Ryan Gooding, Andrew Standifird, Willis Thompson, and Jerardo Vazquez.
Although Tiner initially told law enforcement that he had received a work-related message on his semi-truck's laptop and just "acknowledged the message", causing his distracted driving that led to the accident, FBI investigators determined otherwise. FBI investigators say that Tiner was, in fact, using the social media app TikTok when the accident occurred. Tiner is now facing criminal charges for his role in the accident. The family of victim Willis Thompson stated that they would be filing a wrongful death lawsuit against Tiner and his trucking company employer.
Help for Families of Victims of Distracted Driving 18-Wheeler Truck Accidents
In Houston, certain family members of victims of distracted driving accidents may have options for justice under Texas personal injury laws. Under Texas personal injury laws, certain family members of those who have passed away due to the negligence or recklessness of another person may be entitled to money for their loved one's lost future earnings, medical expenses, pain and suffering, and other monetary compensation. To find out if you are entitled to money damages in Houston under Texas personal injury laws, it is best to speak with an experienced Houston truck accident lawyer.
The experienced Houston truck accident lawyers at the Gilde Law Firm offer a free and confidential consultation to learn about your truck accident case and to see if they can help you get justice due. Contact the Gilde Law Firm today and speak to a lawyer about your case for free.
Source:
azfamily.com/2023/06/30/semi-truck-driver-was-tiktok-when-he-caused-crash-that-killed-5-i-10-near-chandler-dps-says/